1: Select the profile type you'd like to search from the Advanced Search drop-down on the top navigation

Dive into companies, people, investors, funding rounds, acquisitions, schools, or events. Here's more on how to build a search.

2: Add filters
Input your criteria for your search by using the filters located on the left-hand side. Search filters will vary depending on profile type and range from funding rounds, industries, to founders. Note, the individual filter sections will appear collapsed - simply click the dropdown arrow to expand the section you want to look at or utilize.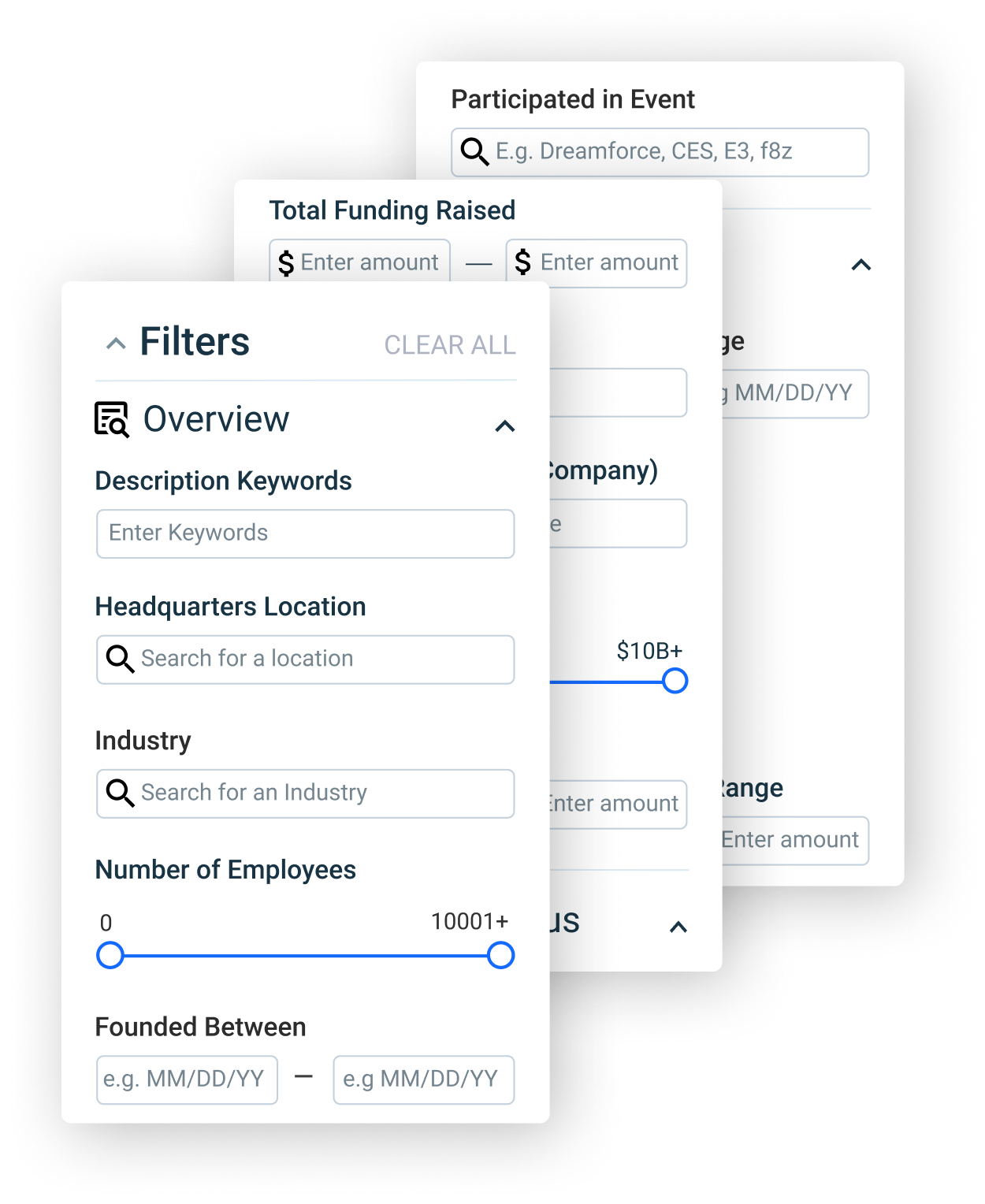 3: Watch your result update
As you update your filters, you should see your results automatically update.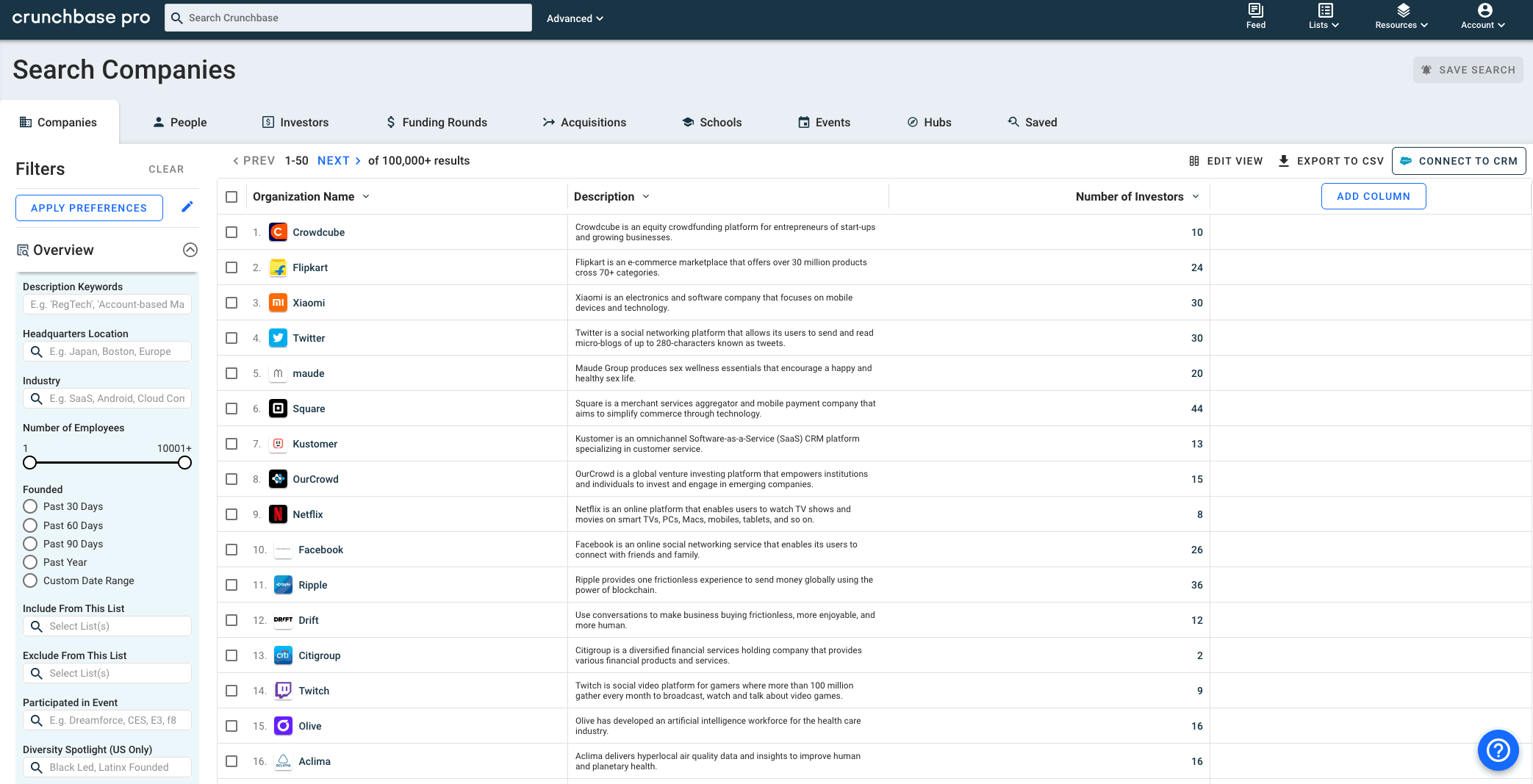 4a: Edit View (In Columns): Customize the columns you would like to see here. Learn how to modify columns to personalize the data displayed to you.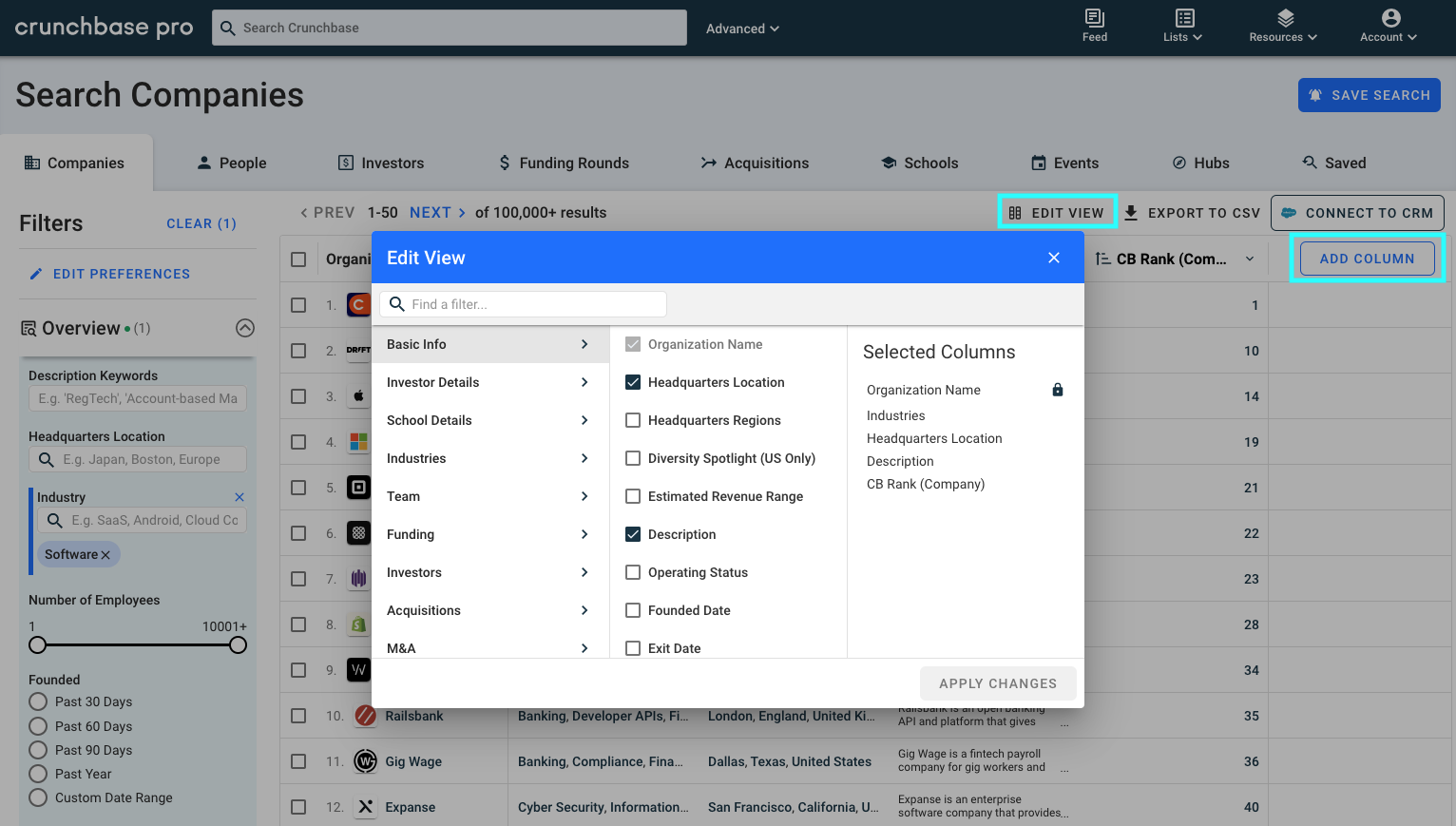 4b: Card View
Toggle to the contacts search card view to see key decision-makers and available contact data in your search results. Hit 'View All Contacts' to see more results and reach out right from advanced search.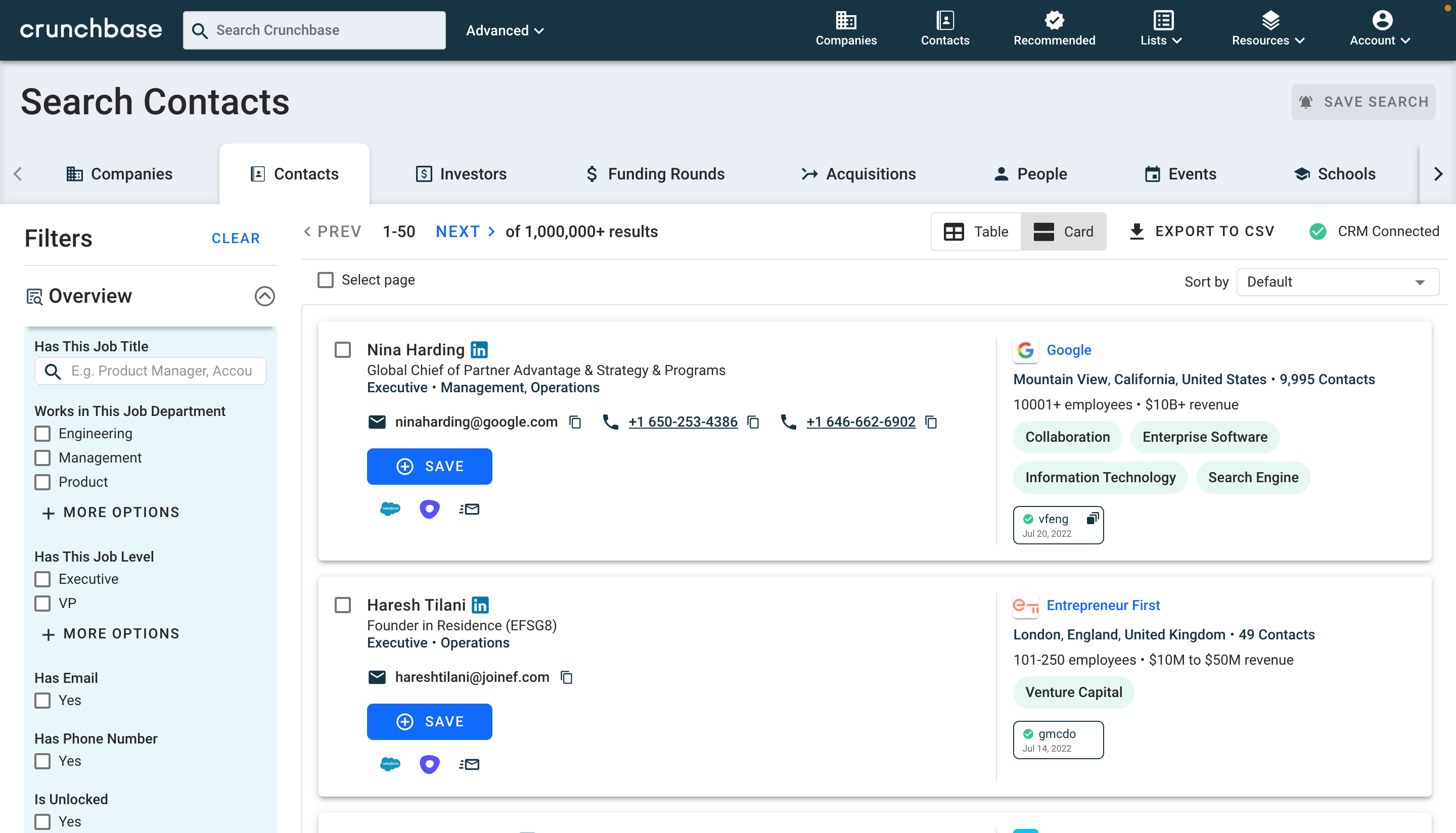 5: Save to list
Lists are great for keeping tabs on your competitors, key prospects, or companies you're interested in. You can select and add them to an existing list or create a new list.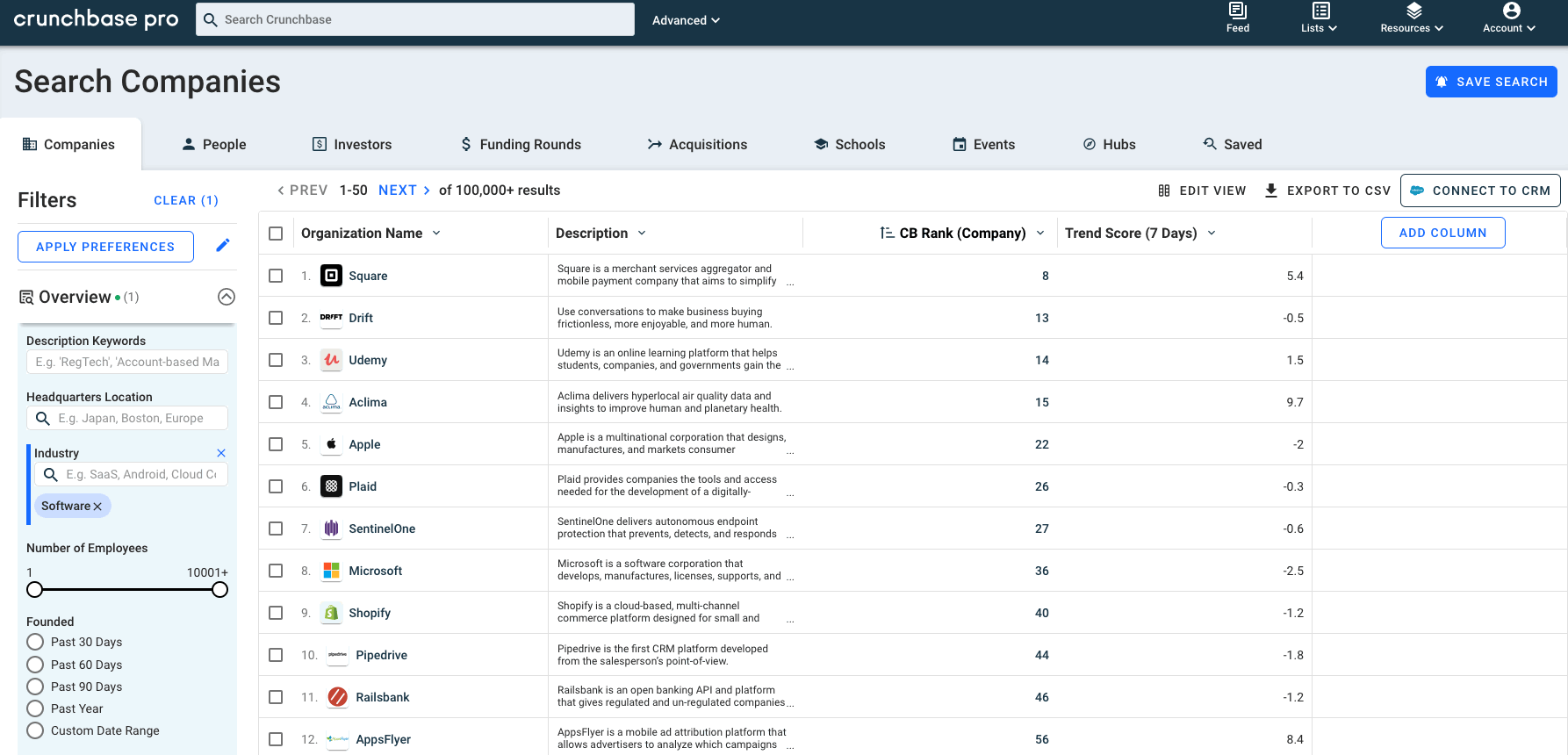 6: Save a search
Monitor, share, and discover companies, investors, and people by clicking here to save your searches. If you've already saved the search, remember to click Save Changes in order to save any changes made to the search.

7: Saved lists
Any lists that you created can be found by clicking the Lists icon at the top of the navigation bar. View your most recent three or click All Lists to view all.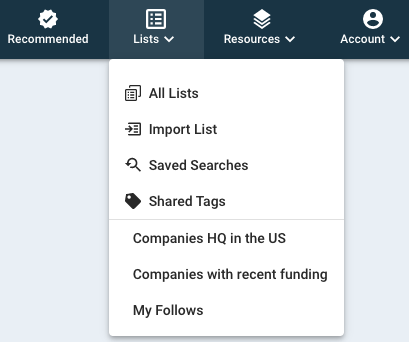 8: Saved searches
Any searches you choose to save will be stored in the Saved tab on advanced search. They can also be quickly accessed by clicking the Lists icon at the top of the navigation bar and selecting Saved Searches.

9: Drill-ins
Discover why a company is listed in a search by using drill-ins. Here are some examples of how to use drill-ins to learn more from your search results.

10: Crunchbase Rank and Trend Score
Quickly see a company, investor, or person's influence by skimming their Crunchbase Rank and Trend Score. See how Crunchbase Rank and Trend Score are calculated and can help you prioritize by reading more here.

11: Export to CSV
Click this button if you want to export your search results to a CSV file. You can open CSV files in Excel or your program of choice.

12: Compare
Select up to 4 of your results to compare. Compare companies, investors, and more, on everything from industry categories to funding rounds.

13: Clear filters
Looking to start a new search? Clear the filters you added to quickly get started!

14: Contacts Search
In the 'Contacts tab', view a contact to access their contact information, including email, LinkedIn and phone number (if available). Then send an email powered by Crunchbase's intelligent email templates or snippets, or push the contact to Salesforce. Click 'Export' to export your unlocked/viewed contacts from search to a CSV file, learn more here.
15: Featured Searches and Lists
Look through our curated featured section and get inspired with searches or lists to create. This option can be on the home feed or by clicking here.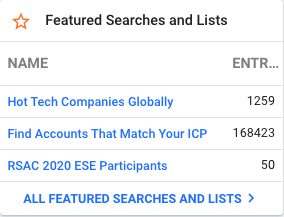 16: Use the top search bar
Use the top search bar to look up a specific company, investor, or person by name to find their Crunchbase profile.

17: Account Information
Access your account settings here to update your password, email address, and to manage your Crunchbase Pro account(s).

18: Get help
Looking for some help? Explore our Knowledge Center to find how-to articles and FAQs, see helpful guides and search examples. Or ask other users and post your question in the Crunchbase Community. For additional help, contact support here.