Get the most out of your Crunchbase paid subscription by using the full power of the dataset to identify new things about your customer base. To get started, all you need is a customer list!
Watch the video below, or read the steps - whatever fits your learning style!
The steps you'll need to take are:
Building a Customer List that Crunchbase Can Use
You likely already have a customer list somewhere, hopefully in a CRM. To make sure your customer list is Crunchbase friendly, you'll want to make sure four things are true:
That is has the company name
That the company domain is included (where possible)
That the headers of the first two columns are "Name" and "Domain"
There are less than 1000 rows (excluding the header row) in the CSV file

You can easily download our template to make sure your customer list will work with Crunchbase's uploader.
Once you've created your customer list, you can head to our Import List page to import your CSV file directly. Simply drag and drop the CSV file or click the Choose File button to upload your file.
Uploading your List to Crunchbase
When your file is ready to upload, its title will appear above the Import button.

When you've successfully uploaded your file to Crunchbase, you will receive a success message that indicates the number of Crunchbase profiles we were able to match to your list.
Examine Your List - See What Crunchbase Can Add
You'll want to click the View My Imported List button to see which customers Crunchbase has identified for you.

When you click this button, you'll be taken to a list that includes all of the companies that you imported that Crunchbase matched to a profile.
The list will automatically include certain fields - industries, headquarter locations, description, and CB Rank. You'll want to click the Companies tab, then Edit View or Add Column button.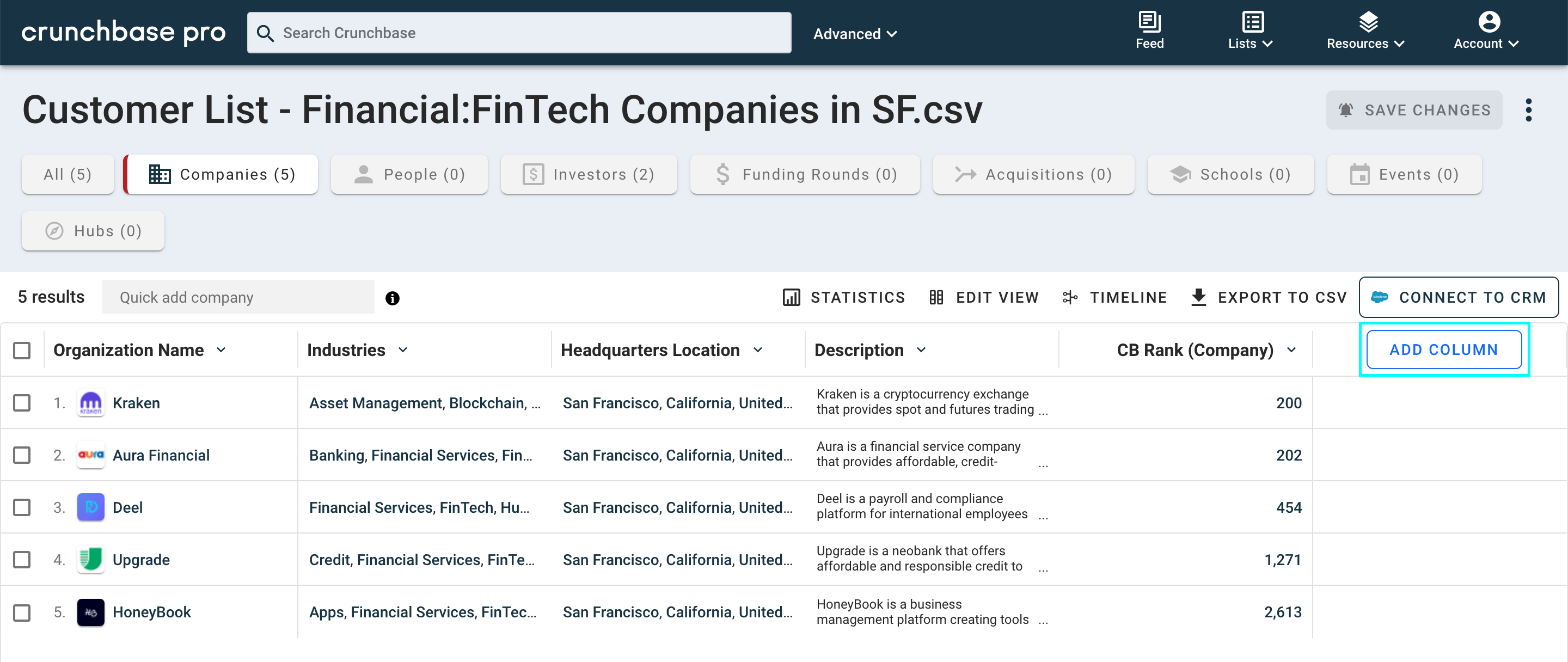 When you click Add Column, a list of all the different columns you can apply will appear.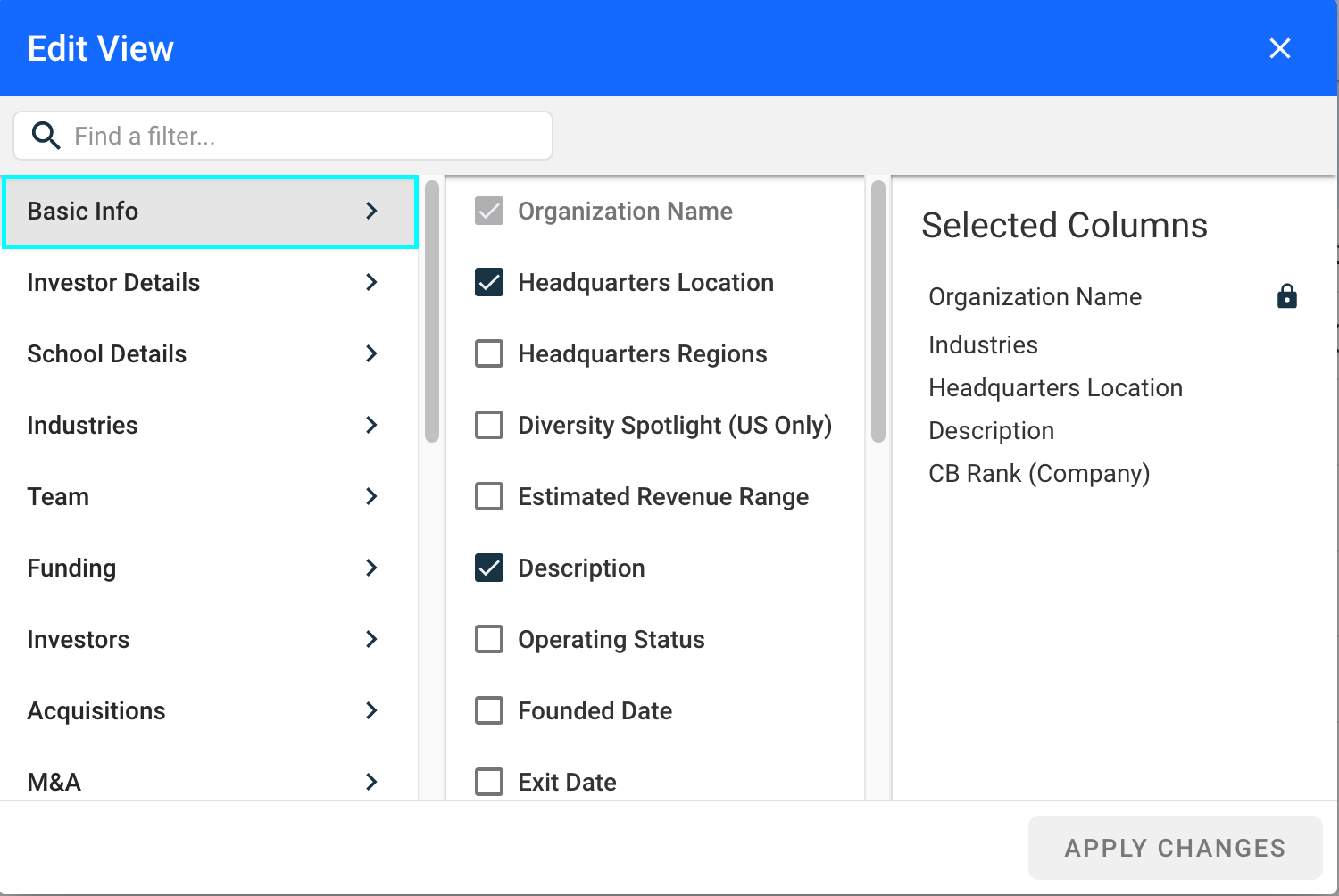 Basic Info is automatically selected. You can simply click on the new column you'd like to add to your list, and click the Apply Changes button to automatically update your results.
If you want to add information other than what Basic Info covers, simply click on another option (like Investors), and you'll have the opportunity to add selections that are related to investors.
I'm going to add Diversity Spotlight information and Hub Tags.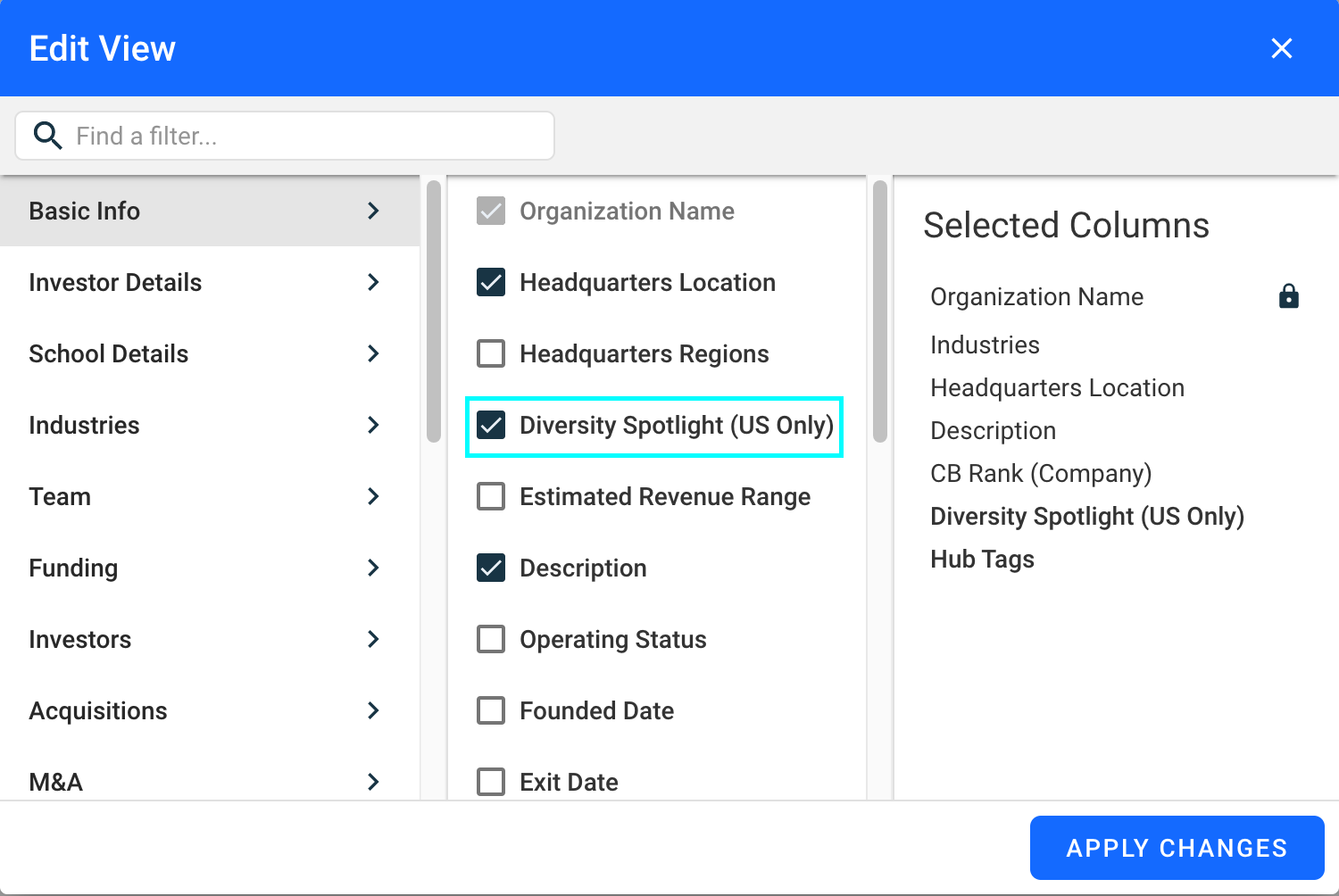 After I click Apply Changes, my results will update to show the new columns.
In addition to the Diversity Spotlight and Hub Tags that I just added, I'm going to add Number of Employees as well.
Again, after hitting the Apply Changes button, the additional information I requested will be automatically added to my list results.

By simply adding columns to my original customer list, I've learned a few important things.
My customers tend to be smaller companies (60% of my customer list falls in the 101-500 employee count)
I have a solid amount of women-founded companies in my customer list
When I put this with what I already knew about my customers (that I handle the financial services industry, and that my territory is San Francisco), I can easily build a new search to help me identify new prospects I should reach out to.
Building a Search to Find New Prospects
Now that I'm armed with more information about my customers, I'm going to find some potential new ones! I'm going to go build a Company Search.
In the Filter Menu, I'm going to add some information to the Overview section. Specifically, I'll indicate that I'm looking for companies headquartered in San Francisco, in the financial services industry, with 101-500 employees.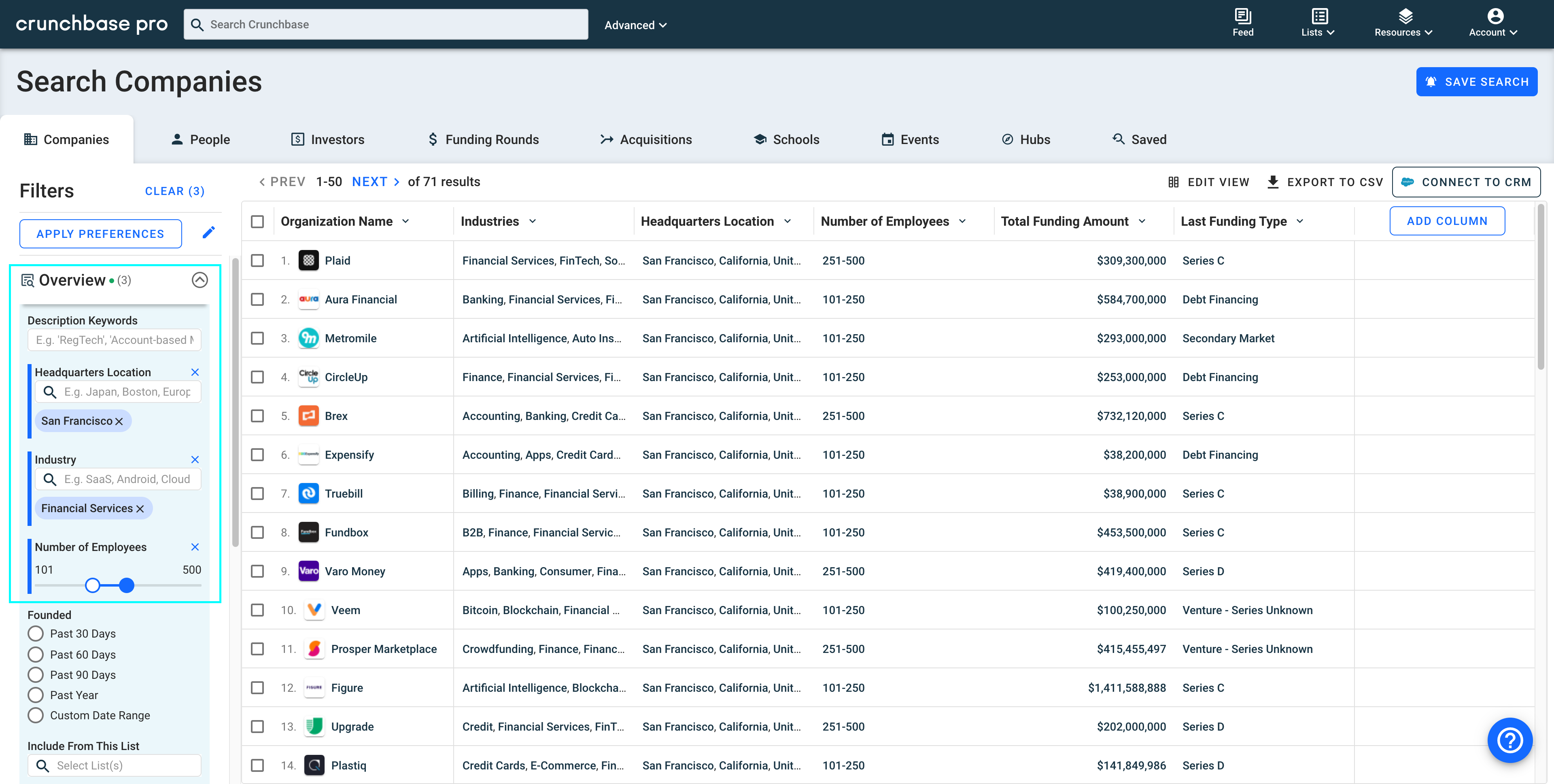 To make sure that I don't reach out to companies that are already in my customer list, I'm going to scroll down in the Filter Menu and select the Customer List I uploaded in the Exclude from This List box. That will ensure that my customers do not appear in my search results. (See result #2 in the image above? Aura Financial is already on my customer list... so, when I exclude my customer list from the results in the image below, Aura Financial is not included, because they're already one of my customers!)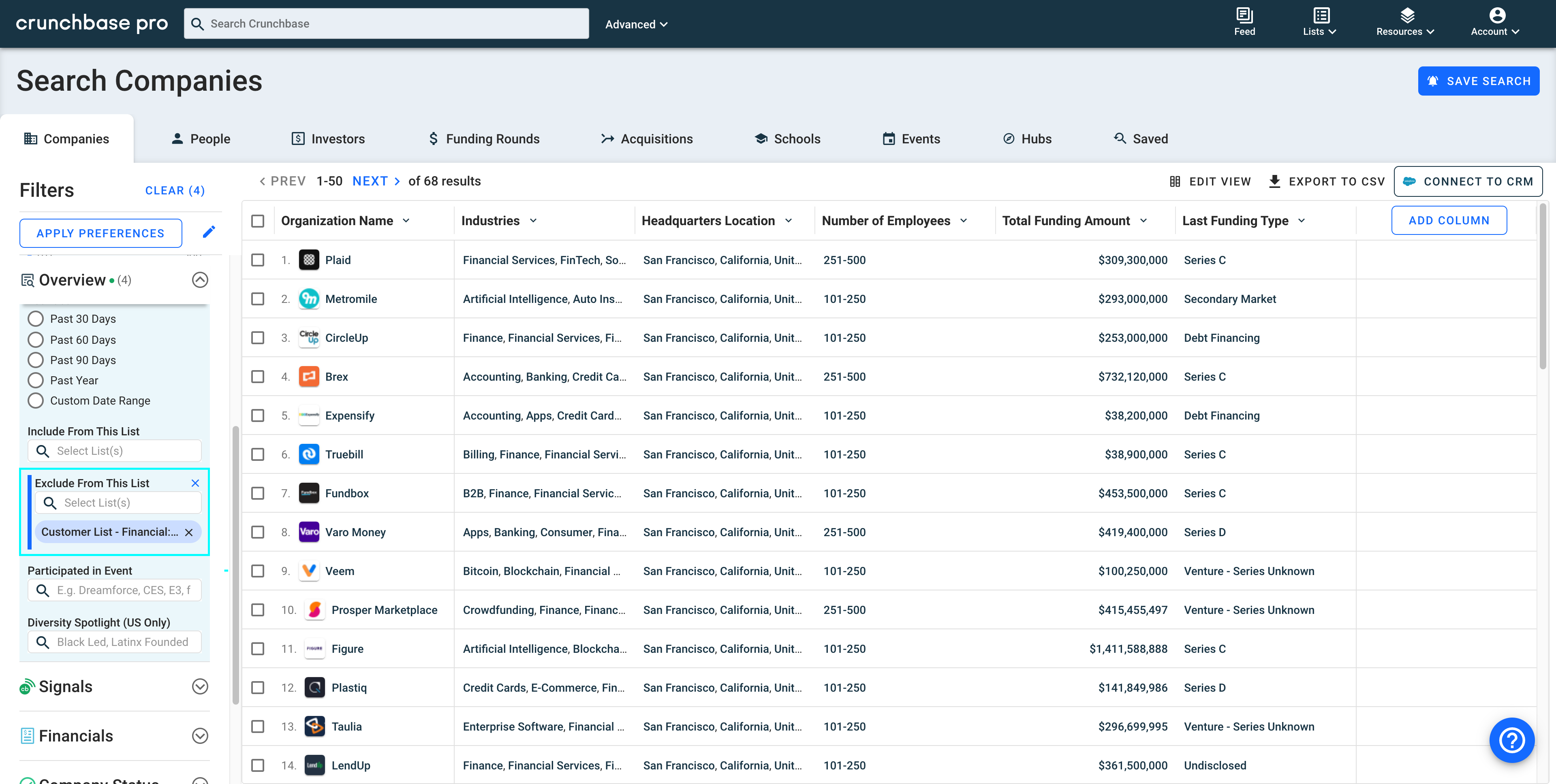 I now have a list of 68 prospects to reach out to, and I have a clear understanding of what makes them like my current customers. Use the tips in this article to go find your own prospects!
You can also build a contacts list, click here to learn more! And use Crunchbase' Outreach Integration to discover decision-makers at qualified accounts, push contacts to Outreach, and assign them to existing sequences.