Crunchbase users can find US-based companies with leadership from underrepresented groups through Diversity Spotlight tags. You can find a library of our tag options and their respective definitions HERE.
Having a diversity spotlight tag on your company profile will help increase your profile's visibility and chances of being discovered by those interested in supporting organizations with diverse leadership. Find out how to add different diversity spotlight tags below:
Race, Ethnicity, and Gender Tags
You'll need to first make sure that you are verified with your company. This is a necessary first step, as the lock icon indicates fields that can only be edited by verified employees.

Once verified, simply navigate to the profile and click Edit from the dropdown under the three-dot icon:

Scroll until you see the Diversity Spotlight field, then search and add the diversity tag(s) that your company identifies with.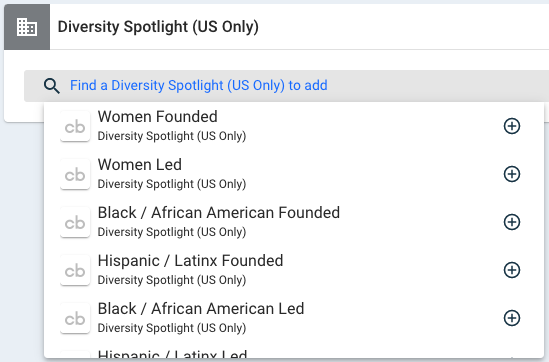 When you're done making your updates, be sure to click the 'Save All Edits' button at the top right corner to ensure your edits are saved!

LGBTQ+ Tags
Due to the sensitive nature of this particular tag, we have implemented additional processes to protect the safety and privacy of LGBTQ+ individuals in our Diversity Spotlight.
If you are an employee of the organization, please complete this intake form.
If you are a leader or founder of the organization, please complete this intake form.
*Note that because our Diversity Spotlight field is currently only available for US-based organizations, the tags will only appear if the headquarters for the company are listed on the profile as being in the US. If they're not, feel free to add it!