Searches and Lists are valuable tools available in Crunchbase Pro - they both help you stay on top of the latest news about the companies, people, and investors that you care about. However, they help you in their own unique ways.

The key difference is that Searches follow the continuously updated profiles that are the result of your saved search criteria, while Lists follow the activity of the specific profiles that you have saved to that list.
Think of it this way: Searches are dynamic, Lists are static.

Lists are great for keeping tabs on your competitors, key prospects, or companies in your investment portfolio. You can select profiles and add them to a list that is saved in your My Lists folder on Crunchbase Pro. In the My Lists folder, you can also set up custom alerts that tell Crunchbase Pro how often to notify you about certain types of news.

For example, you can get updates on any new funding rounds or funds raised on a weekly basis. Then each week you can look forward to a recap that will tell you if anyone on your list raised funding. You can also mix-and-match profile types (people + companies + investors) in your lists! An example list is Celebrities in Crunchbase.

Searches are a critical discovery tool and a great way to track an industry or vertical that you are interested in. Saved searches continuously monitor the Crunchbase data set for profiles that match your search criteria. This means that your search notifications can also tell you when there are new matches to your search, so you always know about the latest developments in the areas you follow.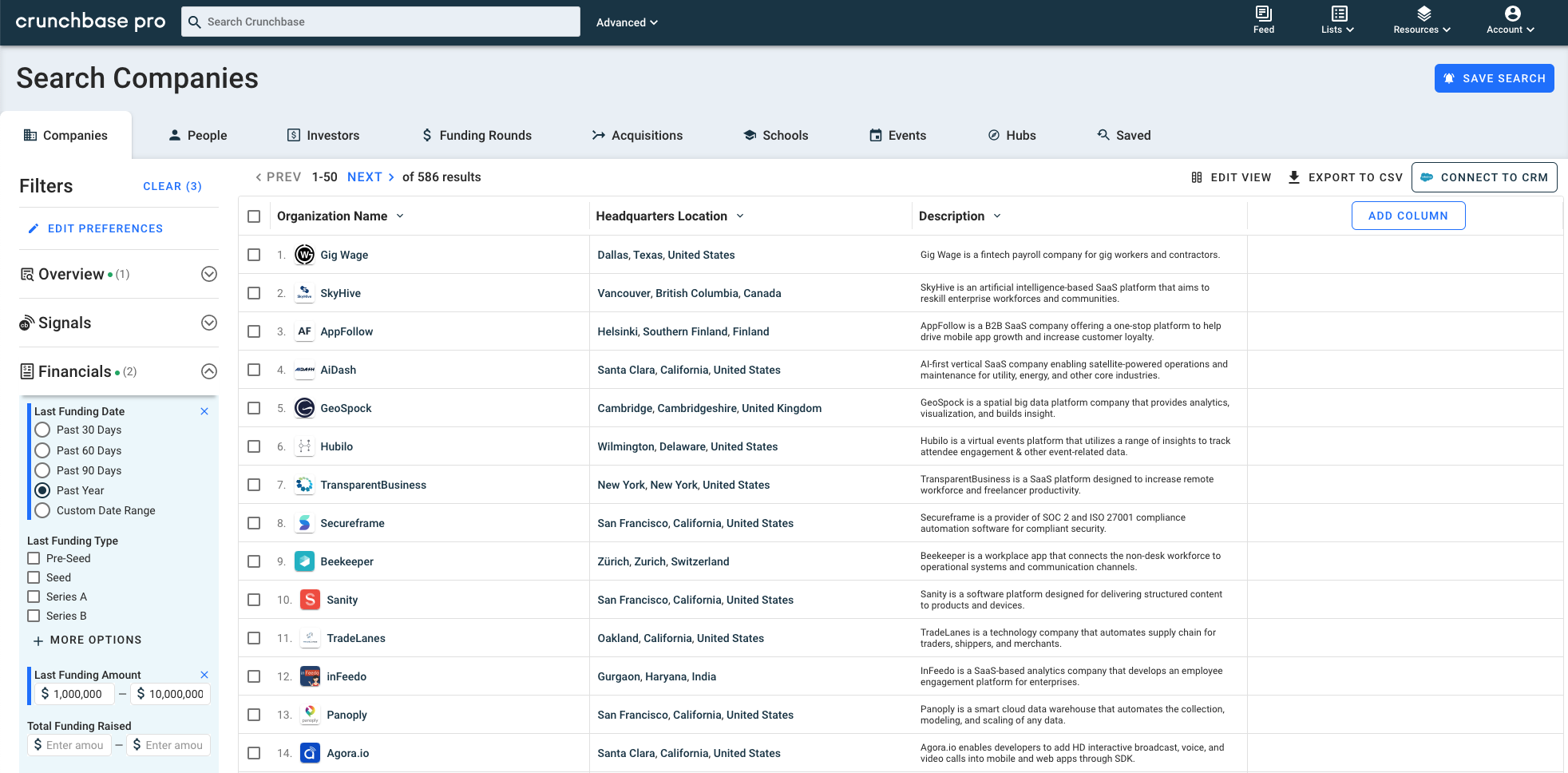 For example, if you are looking for SaaS companies that raised $1M-10M in last year, this search will tell you each time there is a new match based on your notification settings.

All registered Crunchbase users get one free list called My First List. Try it out today!

If you want more information on how to build a search, check out our article How to Build a Search and How to Create a List.
Need help or guidance? Post your question in the Crunchbase Community.