Crunchbase now provides information on the products and services that organizations are using in their day-to-day operations, right on Crunchbase company profiles.
Bombora data identifies which products and services businesses are actively researching, signaling which products or services businesses are interested in. Powered by the largest source of B2B intent data, Bombora takes the guesswork out of sales and marketing. For example, if you were on Wag's Crunchbase profile, you would see interest signals for Wag.
How do I find Bombora data on Crunchbase profiles?
Click on any company or organization profile

Go to the 'Technology' tab

Scroll down to the Interest Signals by Bombora card

Gain insights into the products and services a company is actively researching by clicking into a Topic to see how long they've been interested in a specific service.
Note: If there is no Bombora data for this profile, no card will be shown.
How can I use Bombora interest signals data?
Use this data to see what businesses are actively researching, providing intent data for prospecting. It helps find and drive active demand through the funnel, prioritize accounts, and identifies when your target audience wants to hear from you.
Here's how:
First, navigate to Wag's Crunchbase profile and scroll down to the Bombora card by clicking the Technology tab and scrolling down.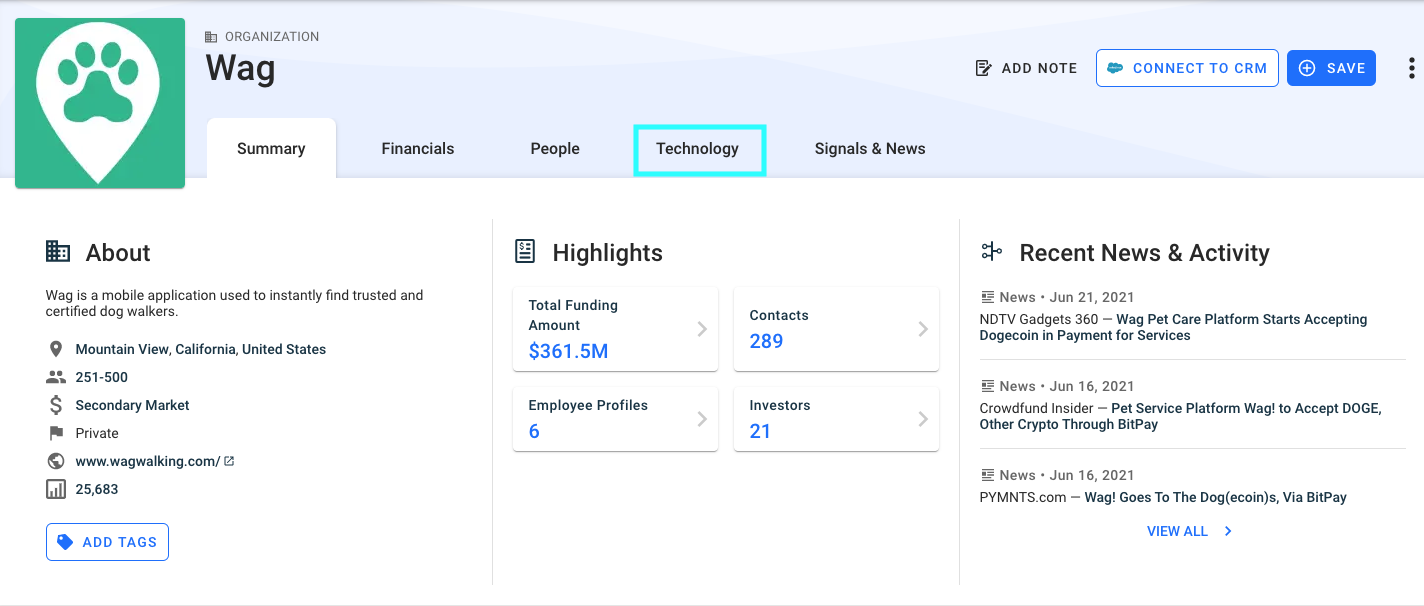 Here we can see some of the products and services Wag is actively researching. You can click the blue View All text at the bottom of the card to view a full list.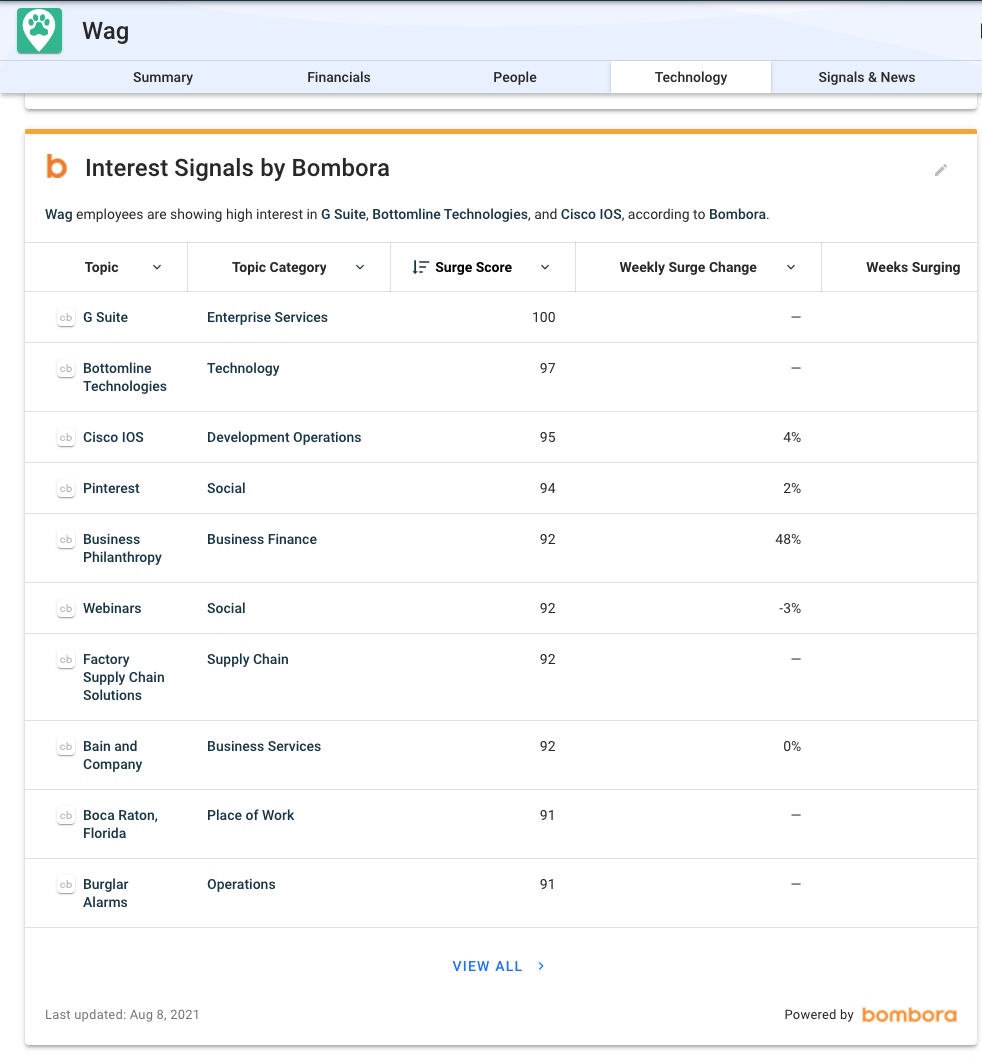 Click into a topic to see what other companies have been interested in a specific service or product. In this example, we'll look into Webinars.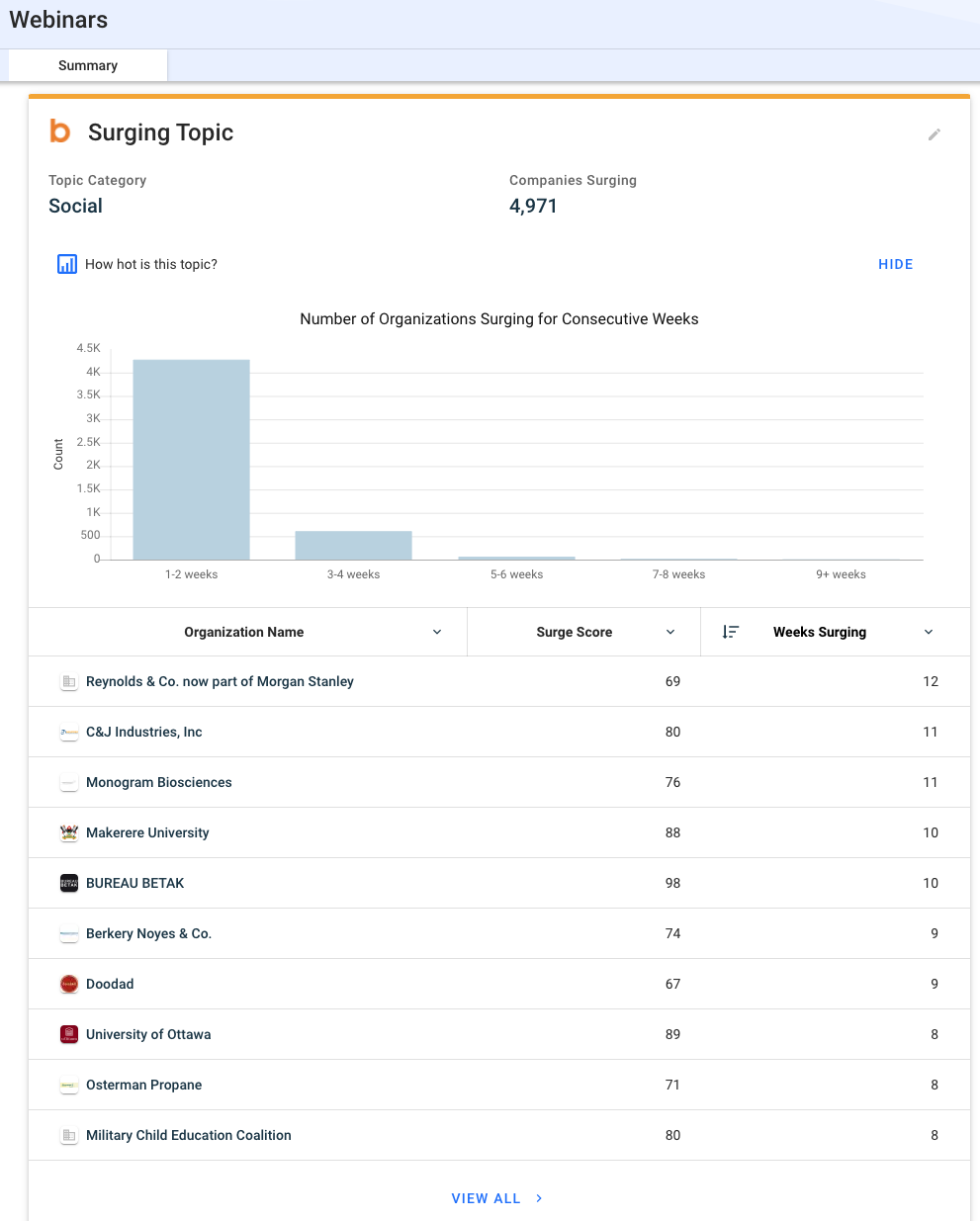 From here, you can further your knowledge about companies that are actively expressing the same interest by clicking on Companies Surging.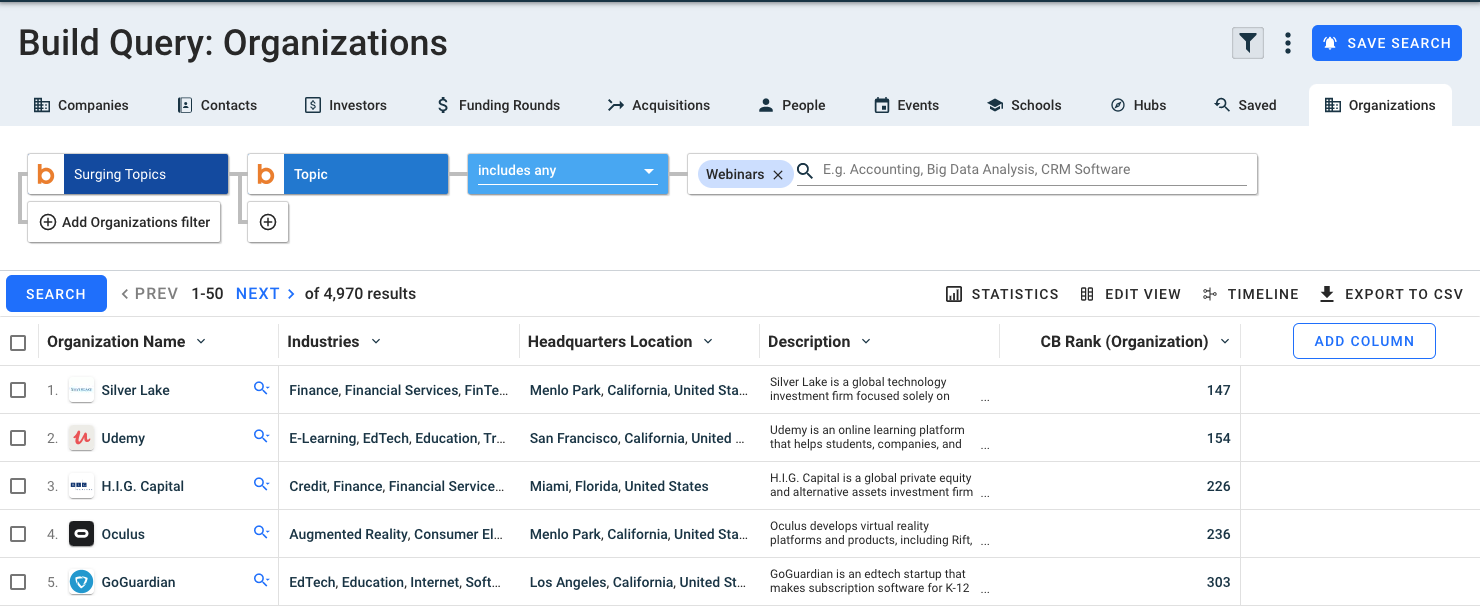 Pro Tip: To learn more about a particular company and its surging topics by clicking the magnifying icon next to the name.
What do these Bombora metrics mean?
| | |
| --- | --- |
| Date Field | Description |
| Surge Score | Surge score measures the intensity to which a company demonstrates interest on a particular topic. It is calculated on a scale of 0-100. The higher the score, the higher the interest. |
| Topic | Topics are a specific type of product or service that a company's employees are searching for, indicating potential intent to take action. |
| Topic Category | Topic categories are a class of topics, provided by Bombora. |
| Weekly Surge Change | Week-over-week percentage change in Surge Score. |
| Weeks Surging | Number of consecutive weeks a topic has been surging for a company (Surge Score greater than 64). |
How do I use Bombora data in Advanced Search?
You can search with Bombora filters in Crunchbase to discover and compare companies based on the topics of interest. Topics of interest information will help you gain valuable market intelligence on the companies that are ready for your product.
Select

Companies

from the Advanced dropdown in the top navigation

From the filters section, scroll down to

Partner Filters
Locate the filter Topics of Interest (Bombora)

and enter your topic in the

input box. In this example, we'll put IT Spending.

Watch your results update in real-time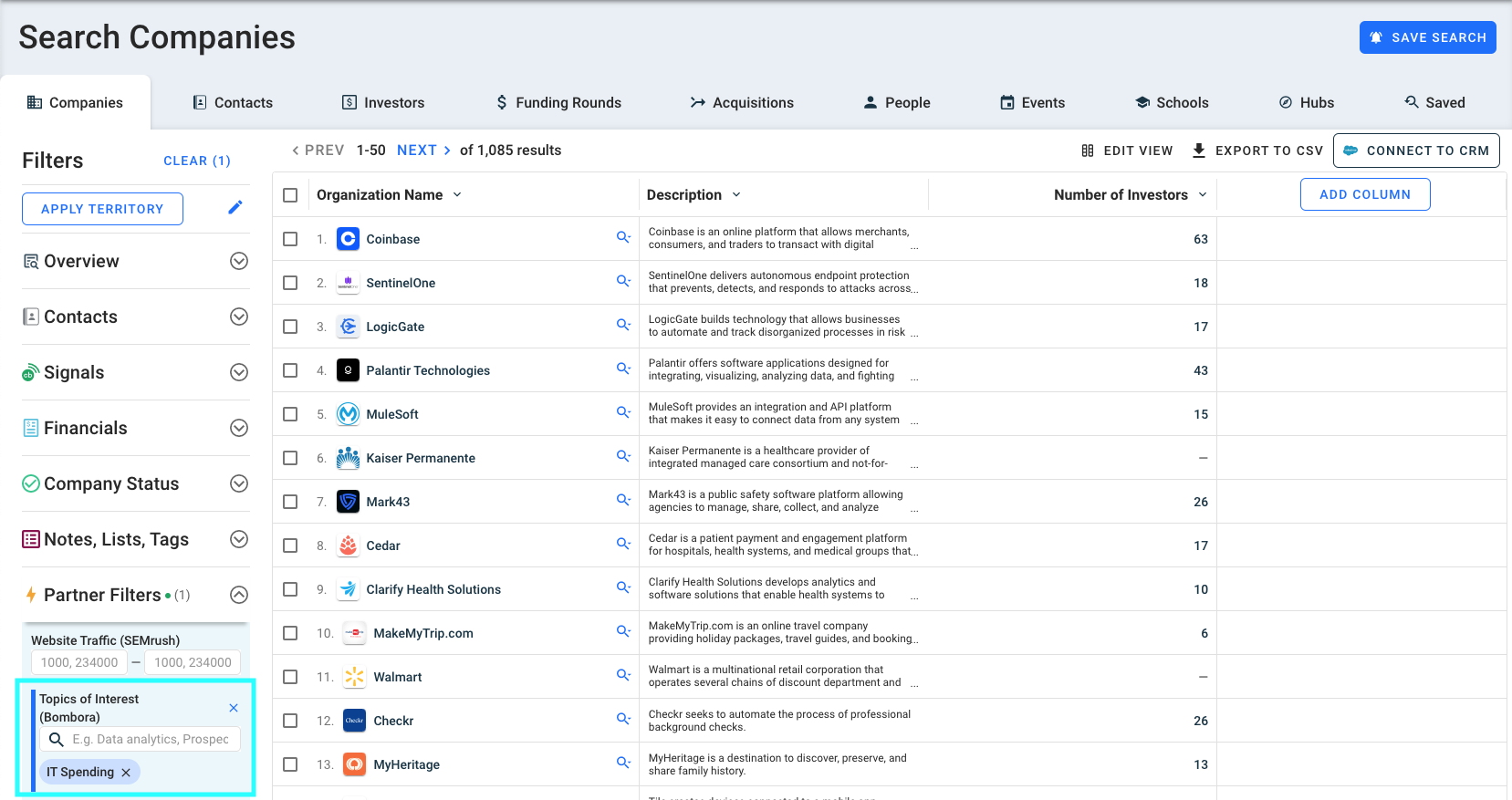 We've now narrowed our list to companies that have been actively searching for IT Spending.
As an example, let's say we know our sweet spot for selling our IT products is geared towards early-stage companies, so let's target startups in early stage in our search too!
Expand the Financials filter section to add an additional filter
Scroll to Last Funding Type and select Seed

,

Series A

,

Series B

Watch your results update in real-time
Congrats, we have now narrowed down our list of early-stage companies who have been actively searching for IT Spending. Time to reach out!