The team admin features for Crunchbase Pro and Enterprise simplify managing access and permissions for multiple users from the same team and/or company. Team admins or 'owner, admins', can now quickly manage team roles and invites to the team - click here to learn how! Team owners or 'owner, admins' can quickly manage team subscriptions all in one place!
Team owner or 'owner, admin' can manage subscriptions for the entire team.
Note, adding subscriptions is only available to Crunchbase Pro users.
To get started, use the top navigation, select Account, and click Account Settings from the dropdown list. Once in the account settings screen, use the left navigation to select Team Members. In this screen, you'll see the column Seats Assigned - this is where you will see who has a Crunchbase Pro subscription and who does not.
Seats refers to individual subscriptions. If you have 3 subscriptions but 4 team members who need to use Crunchbase Pro, you'll need to add another seat.

In this example, we'll see that there are 0 seats available in 'Pete Team', and 3 of the 4 Team Members need Crunchbase Pro subscriptions.
From the Team Members section in Account Settings, click the Add Seats button.

Select the total number of seats you will need from the dropdown and click Confirm. In this example, we'll need 4 total seats. Note, your change will take effect immediately and your credit card will be charged the prorated difference.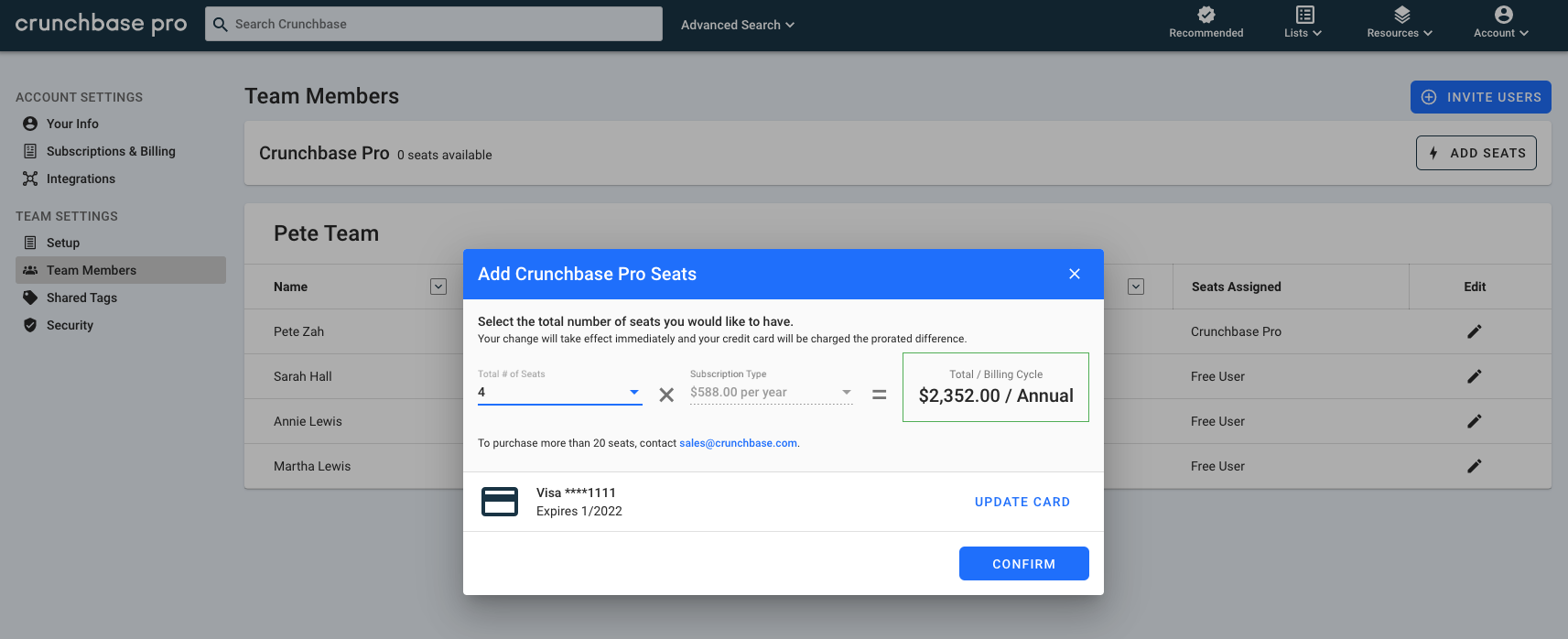 After successfully adding a seat, you should see the number of seats available increase accordingly. In this example, 3 seats were added.

You'll need to assign those seat manually - in the section below, we'll cover those steps!
If you're a team owner or 'owner, admin' and looking to learn how to manage team subscriptions (such as assigning, removing, or seats), click here!