With Crunchbase's HubSpot integration, Hubspot users can now build and track pipeline right from Crunchbase.
What are the features?
Push
Discover net-new accounts:

Quickly see which accounts are already in your CRM and which ones are unclaimed.

Push in a single click: Push and own new companies and contacts from within Crunchbase or on other websites using our Chrome extension.
Inform
Keep track of potential opportunities: See Hubspot account details like account owner and last activity date to identify accounts that need your attention without leaving Crunchbase.
Know when to reach out: Get alerts on company activity and buy signals for any account you've pushed to Hubspot via your 'My CRM' list within Crunchbase.
Improve
Reduce human error: Ensure only accurate and up-to-date data is sent to your CRM with direct pushing.
Eliminate duplicate records: Avoid pushing duplicate accounts and contacts with built-in duplicate detection from Crunchbase.
How do I get set up?
Sync your Hubspot account to Crunchbase
Ask your Team Admin to sync your Hubspot integration to Crunchbase.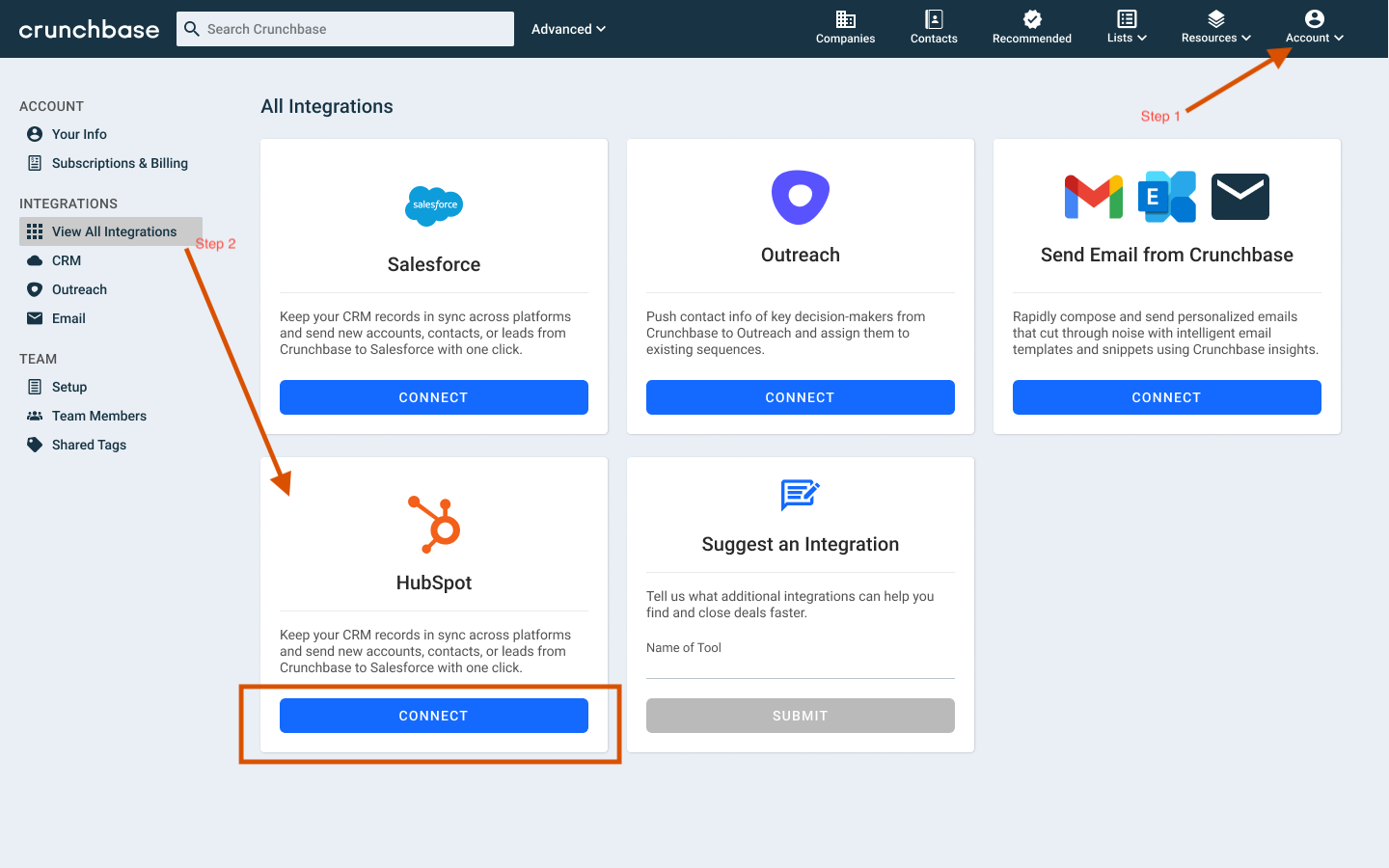 Once signed in:
Click Account in the top navigation and select Account Settings
Click View All Integrations on the left hand panel
Locate Hubspot and press the connect button
Synchronization
1. Synchronization may take a few hours to a day to complete. During this time, the companies in your CRM are being matched with company profiles.
2. When a user initially syncs their HubSpot account, they will be notified that Crunchbase is an unverified app. This is expected. You may see a message like the example below: