Crunchbase now offers information on the technologies a company's website uses with BuiltWith, including analytics, hosting, CMS, widgets, advertisers, and many more.
Technologies are pulled from the company or organization's external website and listed on their Crunchbase profile page. For example, if you were on Lyft's Crunchbase profile, you would see website technology information for www.lyft.com.
How do I find BuiltWith data on Crunchbase profiles?
Click on any company or organization profile

Scroll down to the BuiltWith card

Quickly analyze the technologies being used on a company or organization's website by viewing the

Tech In Use

and

Tech Stopped Using

tabs.
Note: If there is no BuiltWith data for this profile, no BuiltWith card will be shown.
How can I use BuiltWith web stack technology data?
Website technology information will help you find out what the fastest-growing companies are using to build their websites.
Let's say you are an entrepreneur or founder looking to get into the e-commerce space. For inspiration as to what technologies you should build your website with, you would navigate to the profile of a major player in the e-commerce space, like Walmart.
To begin, navigate to Walmart's profile, and scroll down to their BuiltWith Card.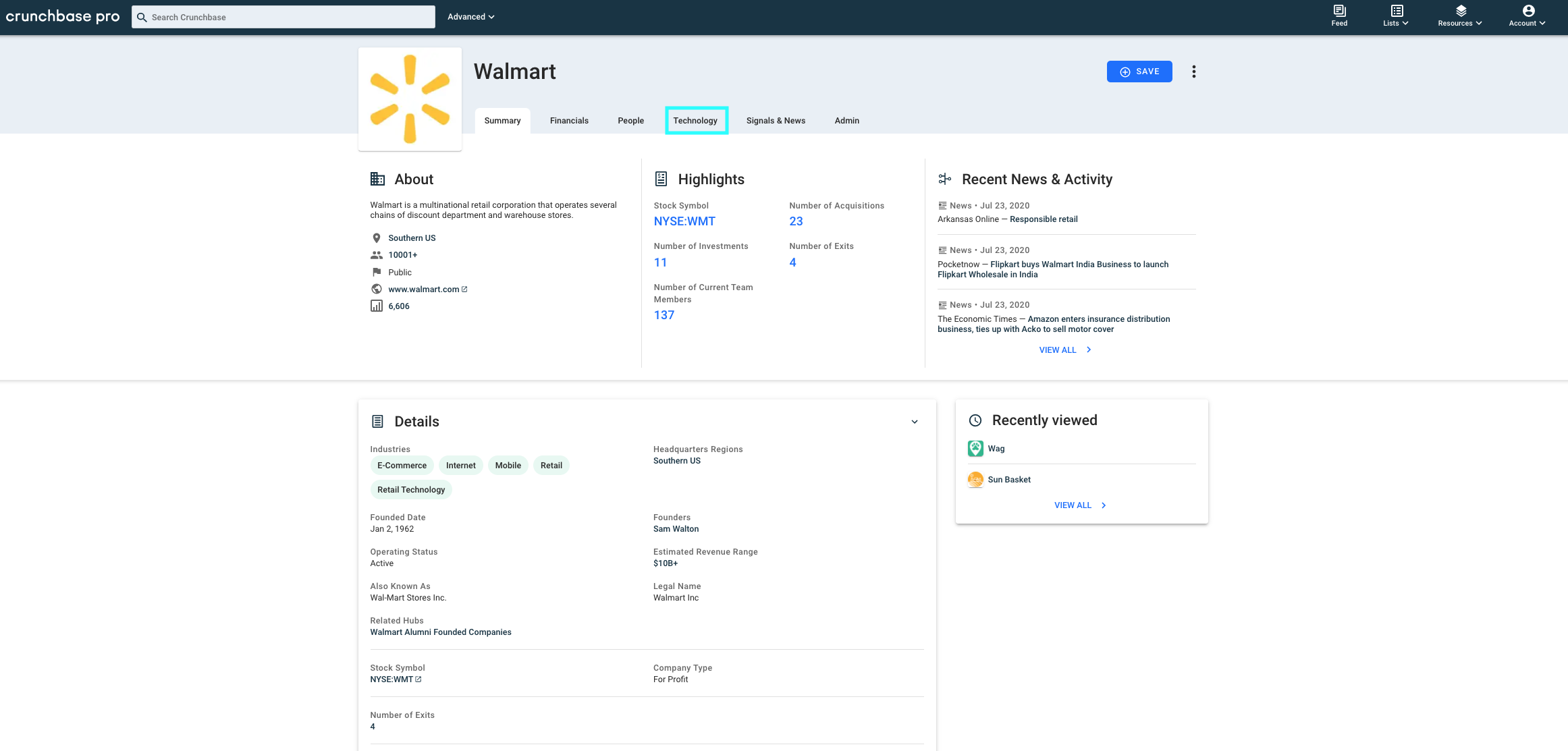 Here, we can see all of the most popular technologies (and the number of companies using each of those technologies) active on Walmart's website. You can click the blue View All text at the bottom of the BuiltWith card to view the full list of technologies used.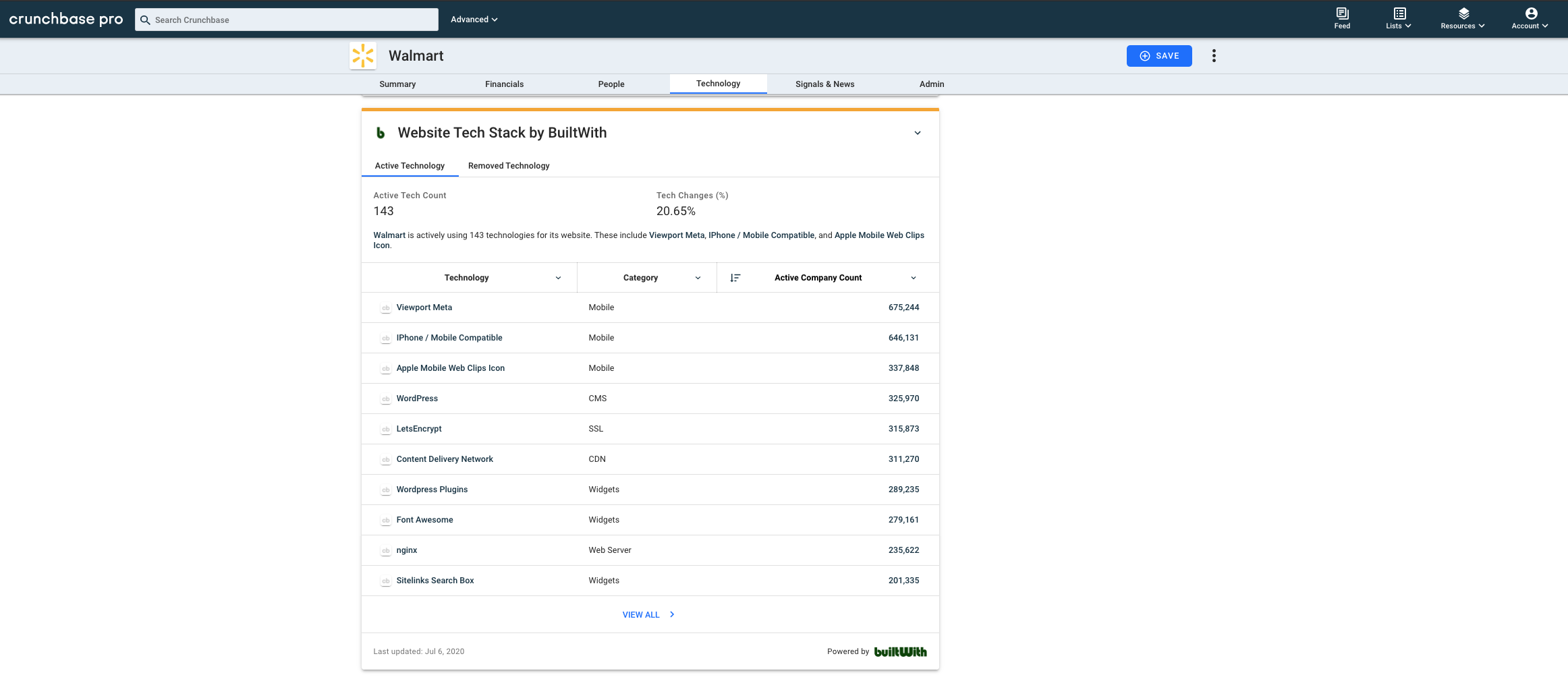 We can also see the category of each technology, telling us the primary type of technology. As an e-commerce company, you should care a great deal about technologies like "Payment", "Shop", and "Ads." Here you see that Walmart uses Stripe as their payment provider, which could be a reliable option for your own e-commerce venture.
You also see Magento as a shop type technology but aren't familiar with what that service does. Click into the blue technology name, Magento, to learn more!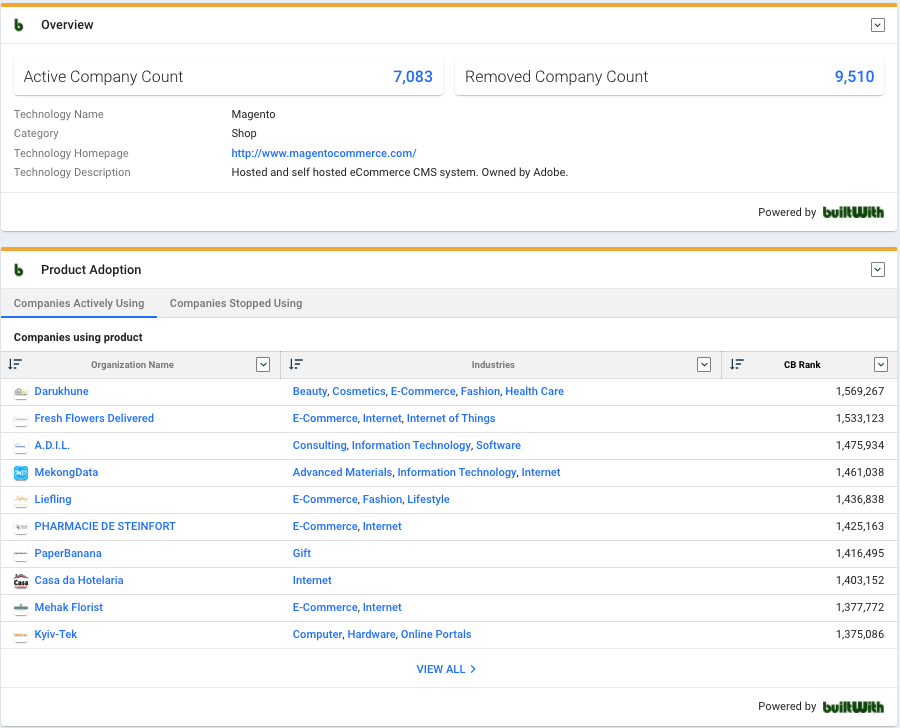 You learn that Magento is a commerce management platform. You can navigate to their homepage to dig deeper and see what services they offer. You also have insight into the popularity of the product through Active Company Count and Removed Company Count.
Pro Tip: Clicking the blue number next to either of these sections takes you to a drill-down of all the companies actively using the technology, or companies that have currently removed the technology.
What do these BuiltWith metrics mean?
| | |
| --- | --- |
| Date Field | Description |
| Tech in Use | Total number of technologies currently in use by this company, as detected by BuiltWith. |
| Tech Changes (%) | Percent change in total number of technologies that Builtwith has detected for this company in the last month. |
| Technology Name | Name of technology (product, platform, or tool) in use by a given company. |
| Category | Represents the primary type of technology (e.g., Tag Management, Analytics). |
| Num Companies Using | The number of companies that are currently using this technology, as measured from the time BuiltWith started tracking this technology. |
| Num Companies Stopped Using | The number of companies that have stopped using this technology, as measured from the time BuiltWith started tracking this technology. |
| Status | Indicates whether this company is currently using, or has stopped using, this technology. |
| Technology Description | Brief explanation of what a given technology does. |
| Tech Homepage | Link to product's homepage. |
How do I use BuiltWith filters in Advanced Search?
You can search with BuiltWith filters in Crunchbase to discover and compare companies based on the technologies currently (or even formerly) operating on their website. Web stack information and analytics will help you quickly identify companies that would be a good fit for your product based on the technologies present or their website or find new opportunities by searching for companies based on the percentage of technologies that have changed over the past month.
Let's say we're looking to sell an integration that links Google Analytics and Wordpress sites. Using a Crunchbase paid subscription and BuiltWith filters, we can generate a list of qualified leads by searching for companies currently using both of these technologies
Select Companies from the

Advanced

dropdown in the top navigation

From the filters section, scroll down to Partner Filters

Locate the filter

Website Tech Stack by BuiltWith,

then type in

Google Analytics

and

WordPress

into the filter input box and select the names from dropdown

Watch your results update in real time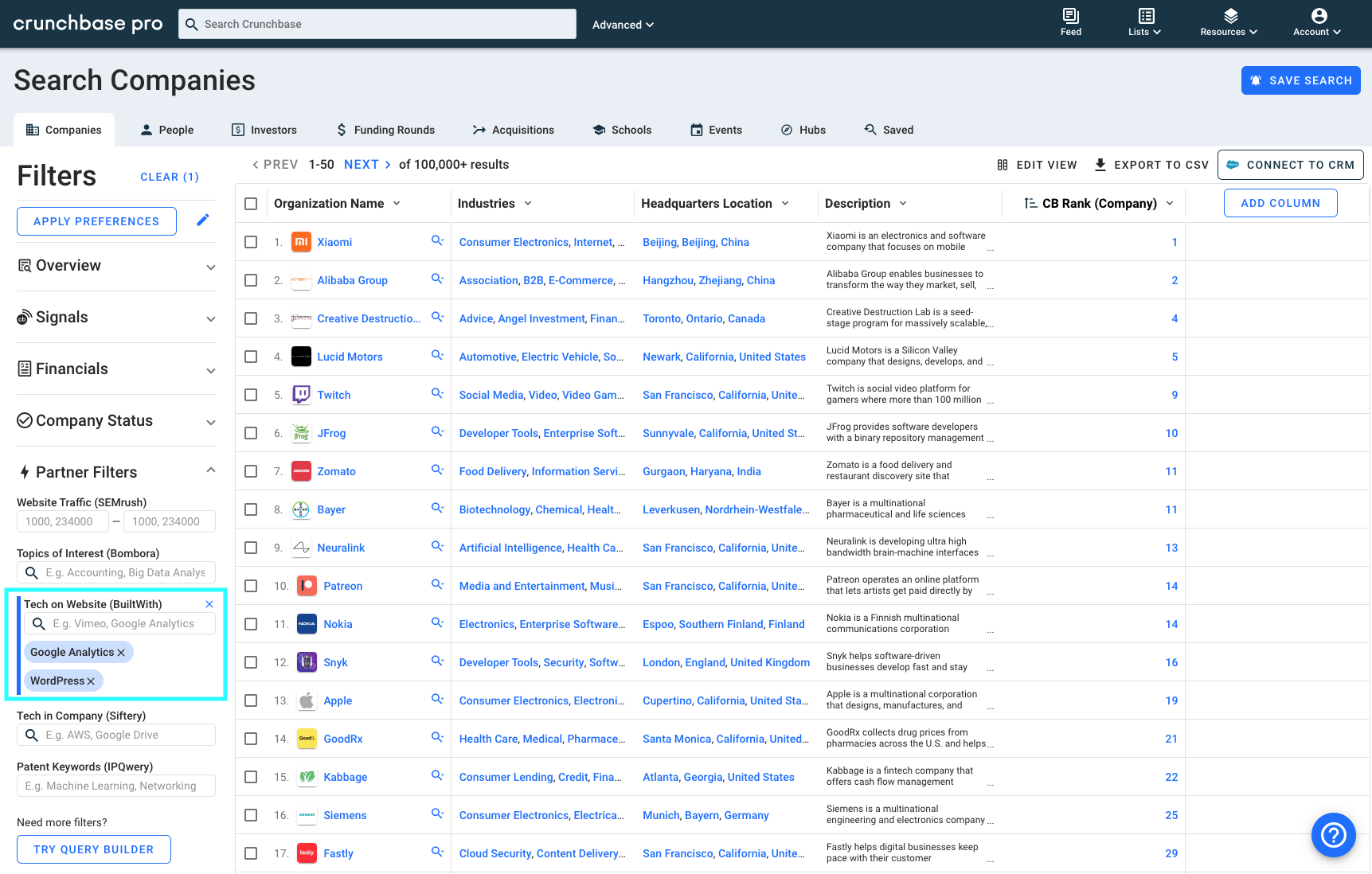 Lucky you! Looks like you have over 100,000+ potential customers using both of these technologies! But following up with all of them might take awhile, so let's try drilling down with some buy signals like recent funding.
From the filters panel, scroll to the top and locate the section Financials and find filter Last Funding Date

Select "Past 30 Days" or however far back you'd like to go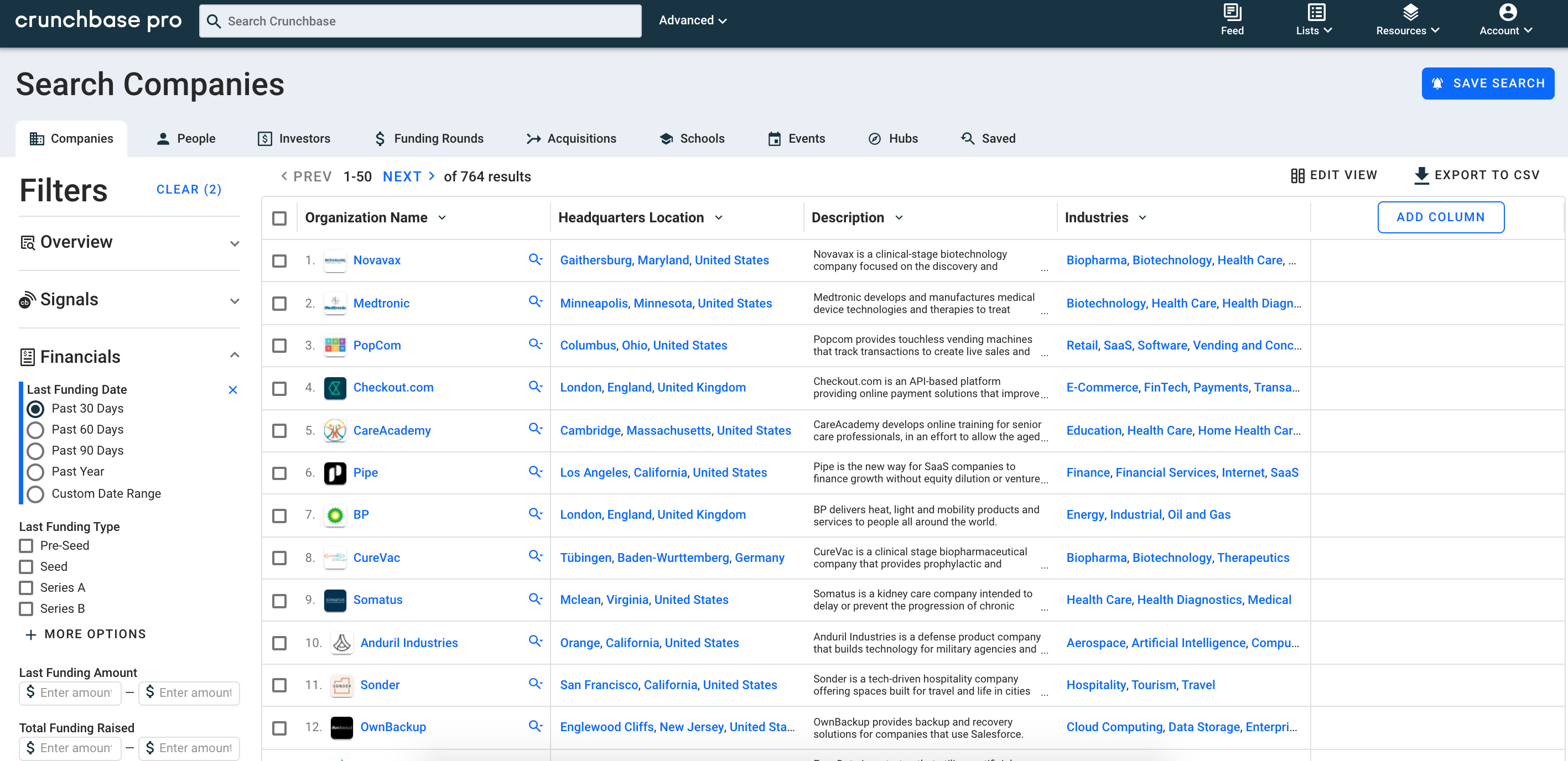 Now we have a list of qualified leads who not only have websites compatible with our product, they have some newfound cash to pay for it.
Pro Tip: Here are some other great filters to combine with a BuiltWith Crunchbase Pro search:
Last Funding Type:

Narrow your search by the stage of companies (Seed, Series A, IPO, ICO, etc.

Industries:

Search for companies within a specific vertical

How do I see BuiltWith columns in my search results?
To see BuiltWith details across your search results by clicking Edit View or Add Columns.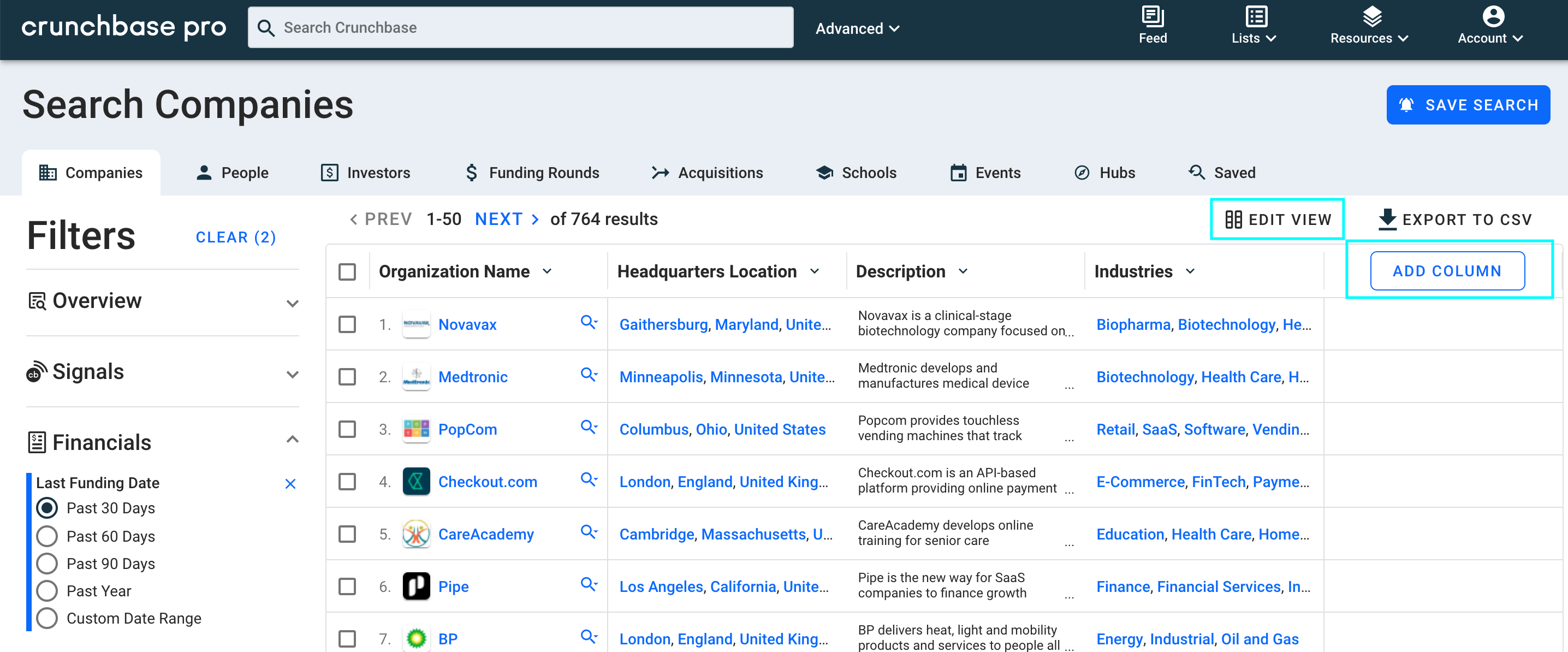 Using the search example above, we will add Active Tech Count to get a more comprehensive view of the companies in our search.

We also added a column for Tech Changes (%) to help you identify companies that have changed a high percentage of their web stack technologies in the past month. This could be a key indicator that they are ready to buy.
How do I use BuiltWith Drill-downs?
Click the blue magnifying glass next to one of the companies in your search results to learn more about the particular technology that company is using.